Nurburgring and Nordschleife rental race car infos & prices
Here you will find prices and details for our Nürburgring Rental Cars. Renting a Race Car for a public session or a trackday has never been easier before.
Choose from our fleet of fully prepared Ringtools. Whatever your preference, we will have the car to suit you!
Why should you choose a rental from Rent4Ring?
All of our cars are GENUINELY prepared with a motorsport approach in mind. Upgraded and modified in-house by experts and enthusiasts!
No cheap "upgrade" brake pads or random street tires at Rent4Ring. All of our cars run the best and most advanced uprated parts, tested and chosen by ourselves.
Real Racing Brake Pads by Endless, KW or Öhlins suspension, Michelin and Yokohama tires, full cages made in Germany by Wiechers, Recaro seats and Schroth 4-point harnesses.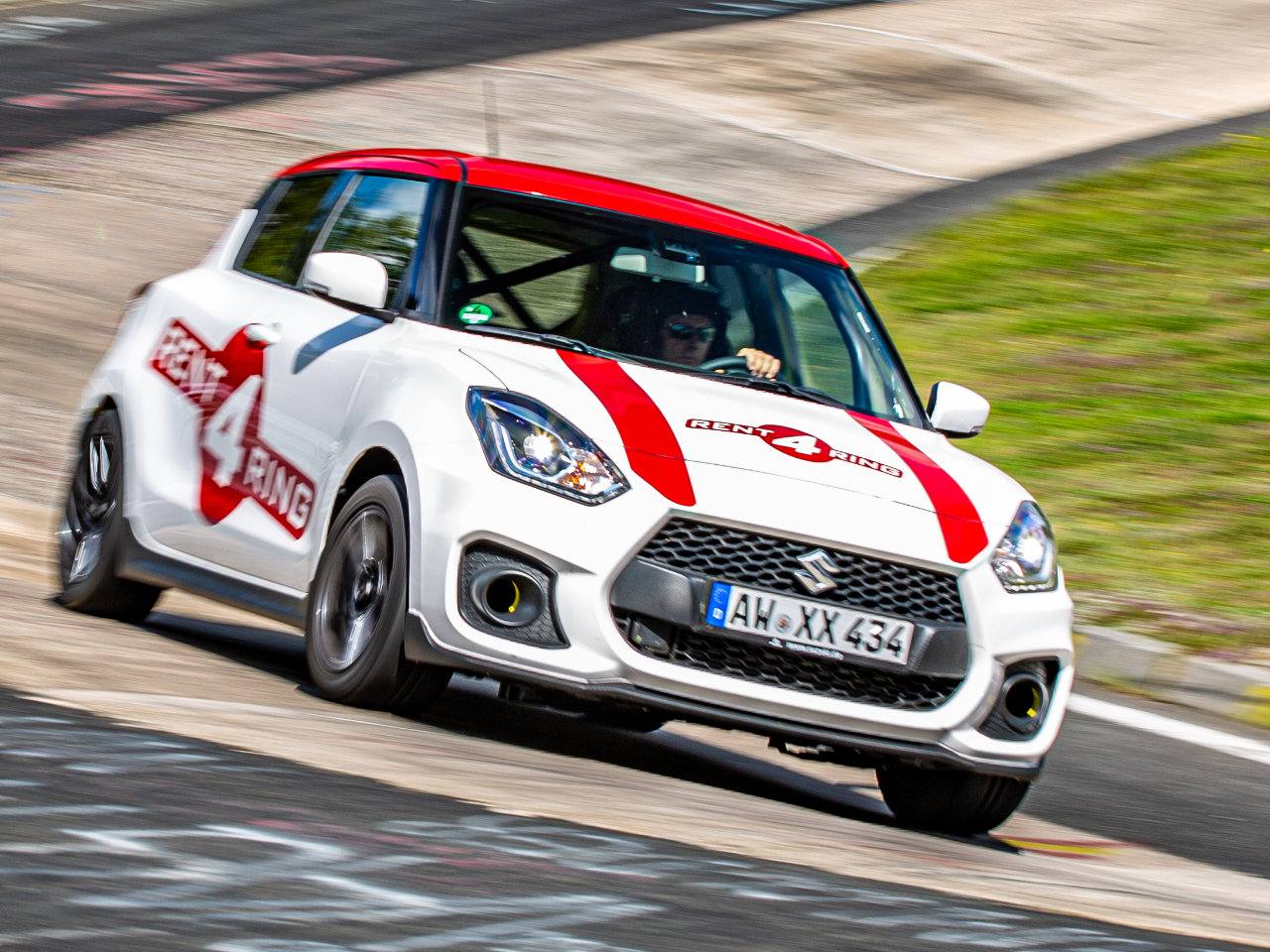 It finally has arrived!
More power, more torque, less weight!
The brand new Suzuki Swift Sport got all the credentials to be a genuine successor of the previous Swift Sport.
Now equipped with a turbocharger that gives the Swift exactly what it always needed. More torque through the entire rev range.
Come and try the new Turbo Swift yourself.
Stripped out and fitted with a full wiechers roll cage, Recaro racing seats and a 4point harness
Upgraded Öhlins suspension and matching geometry.
lightweight 15"alloys
Racing exhaust and sports intake
Upgraded brakes with high end racing brakepads and fluid
More power 150 hp and more torque 250Nm
Super lightweight 970Kg
Six Speed manual gearbox
| | |
| --- | --- |
| Manufacturer | Suzuki |
| Model | Suzuki Swift Sport/ Turbo Swift |
| Engine | 1.4 Litre, inline four with Turbo |
| Transmission | 6-speed manual |
| Power | 150+bhp |
| Weight | 970kg |
Arrive&Drive Prices

€ 199,-

First Lap

BEFORE BOOKING, PLEASE CHECK THE OPENING TIMES FIRST HERE

IMPORTANT NOTES - PLEASE READ!

All Inclusive is exactly what it says! The Car, Lap Ticket, and Fuel! The First Tank is inclusive of the price, and this Car will drive 8 Laps to a full tank. If you decide to drive additional Laps you will have to put some more Fuel in, but bring it back empty when finished!

Additional lap
€ 99,-
Basic Prices

€ 159,-

First Lap

BEFORE BOOKING, PLEASE CHECK THE OPENING TIMES FIRST HERE

IMPORTANT NOTES - PLEASE READ!

A basic rental price includes only the Laps driven by the car. The Laps are counted in Kilometers to see how many laps you have completed on the Nürburgring Nordschleife. The cost of your Lap TICKETS and FUEL is NOT INCLUDED. This is how our BASIC rental works. Additional lap prices DO NOT include the Lap Tickets.

All prices include two drivers. Extra drivers are by agreement with Rent4Ring and will cost €25 each.

Only the car is included in this package, you have to buy own Lap Tickets and return the Car with a full gas tank.

Additional lap
€ 59,-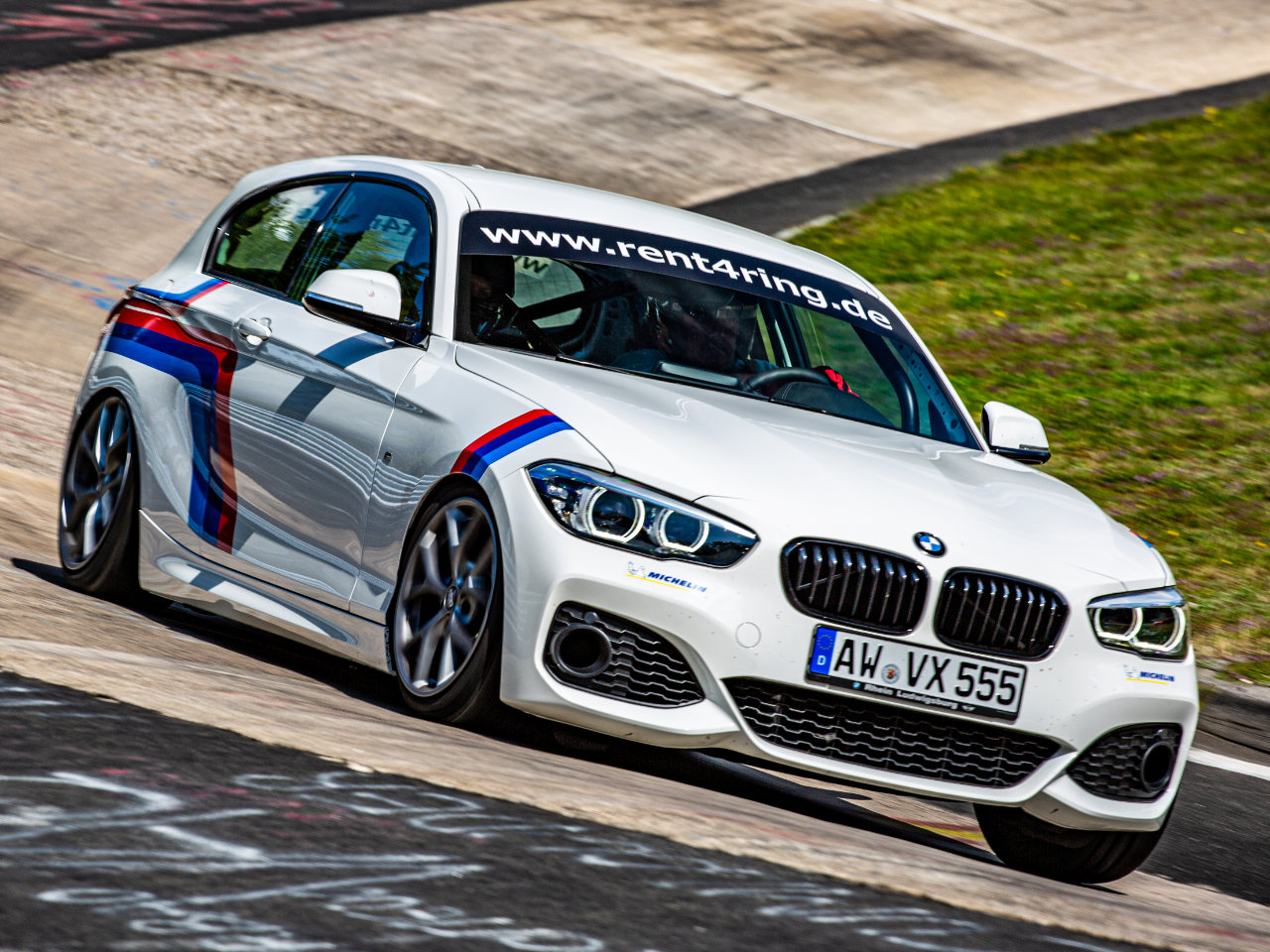 Using the knowledge and equipment from our VLN racing team, we've upgraded the BMW 125i to Stage 2 specification. Amazing grip, rear-wheel-drive and a very potent lag-free motor make this rental car a real buzz on the Nordschleife.
• Semi-slick road-legal race tyres
• KW suspension
• Recaro Pole Position racing seats and OMP harnesses
• new ZF 8-speed sports auto transmission with paddle-shift
• Upgraded brakes using Motul fluid and Endless pads
• Excellent stability control
| | |
| --- | --- |
| Manufacturer | BMW |
| Model | 125i |
| Motor | 2.0 Litre inline four turbo |
| Gear | 8-speed automatic |
| Power | 218 |
| Weight | 1280kg (ca.) |
Arrive&Drive Prices

€ 249,-

First Lap

IMPORTANT NOTES - PLEASE READ!

• On any all-inclusive rental only the first tank of gas is included. Some drivers and cars may need to buy extra fuel to complete all the laps.
• Extra lap prices include the cost of extra lap tickets and fuel (up to the first full tank, as above).
• All prices include up to two drivers. Extra drivers cost €25 each

Including first tank of gas and all lap tickets.

Additional lap
€ 129,-
Basic Prices

€ 199,-

First Lap

IMPORTANT NOTES - PLEASE READ!

A basic rental price includes only the Laps driven by the car. The Laps are counted in Kilometers to see how many laps you have completed on the Nürburgring Nordschleife. The cost of your Lap TICKETS and FUEL is NOT INCLUDED. This is how our BASIC rental works. Additional lap prices DO NOT include the Lap Tickets.

All prices include two drivers. Extra drivers are by agreement with Rent4Ring and will cost €25 each.

Only the car is included in this package, you have to buy own Lap Tickets and return the Car with a full gas tank.

Additional lap
€ 89,-